Pre-K
Pre-K
Kindergarten Prep Academy
We help young minds take flight. We believe your child's potential is truly endless, and by celebrating their individuality and special talents as they learn, we empower them to soar to new heights. Seeing your child succeed in their education is so fulfilling that we want to nurture that feeling as they establish positive learning habits for lifelong success.
Curriculum for growing Pre-K learners.
Pre-K is a time of major growth. Our goal is to stimulate that growth through our comprehensive curriculum by nurturing cognitive, social, emotional and physical development. Every day is a vibrant blend of exploration, creativity and critical thinking. Every moment your child spends at our school is another opportunity to ensure they are well-prepared for kindergarten and beyond.
Your child's day of exploration.
Your pre-K kid is ready to learn! And at Childcare Network, they'll have fun doing it throughout the day. We provide your child the space to explore and continue their individual development, the structure to guide them through the day, and a strong educational foundation to build upon. Our joyful and engaging pre-K experience sparks a love for learning and sets the stage for future academic success.
Celebrating learning milestones.
Our HighReach Learning curriculum programs are thoughtfully designed to foster age-appropriate development by embracing the wonders of exploration, investigation and delightful play! We celebrate each child's growth by setting typical developmental milestones as goals during these precious early years. You can trust that we will nurture your child's individual journey, providing a supportive environment where they can flourish, creating countless cherished moments.
Development/Emergent Literacy
Associates sounds with written words
Identifies at least 10 letters of alphabet
Writes name and familiar words
Mathematics
Can match, sort and regroup items
Makes comparisons between objects
Understands over, under, behind, etc.
Learning About the World/Science
Participates in simple investigations
Begins to predict results based on past experiences
Collects, describes and records information
Social Emotional Development
Expresses growing confidence in abilities
Increasing ability to compromise with others
Greater knowledge of community
Approaches to Learning
Eager to learn about new ideas
Maintains concentration despite distractions
Increased ability to find more than one solution to a question or problem
Physical Health Development
Throws, catches and bounces balls
Growing independence in personal hygiene
Uses pencils, markers and paintbrushes with increased control
Free Pre-K Programs at Childcare Network
Some of our schools in Georgia, Florida, and North Carolina offer state-sponsored prekindergarten programs for children that are four years of age by the required deadline, as determined by each state. To participate in these programs, providers must meet rigorous standards that include teacher credentials, classroom standards, curriculum requirements, and much more. In order to participate in these programs, your family must meet the state eligibility requirements and follow a detailed application process. Demand for these programs sometimes exceeds the available classroom space, so parents are encouraged to enroll early to secure their slot for the upcoming academic year.
Childcare Network is proud to be able to offer these programs to our parents in some of our schools. To learn more about the program in your state, choose an option below or search for a school near you here.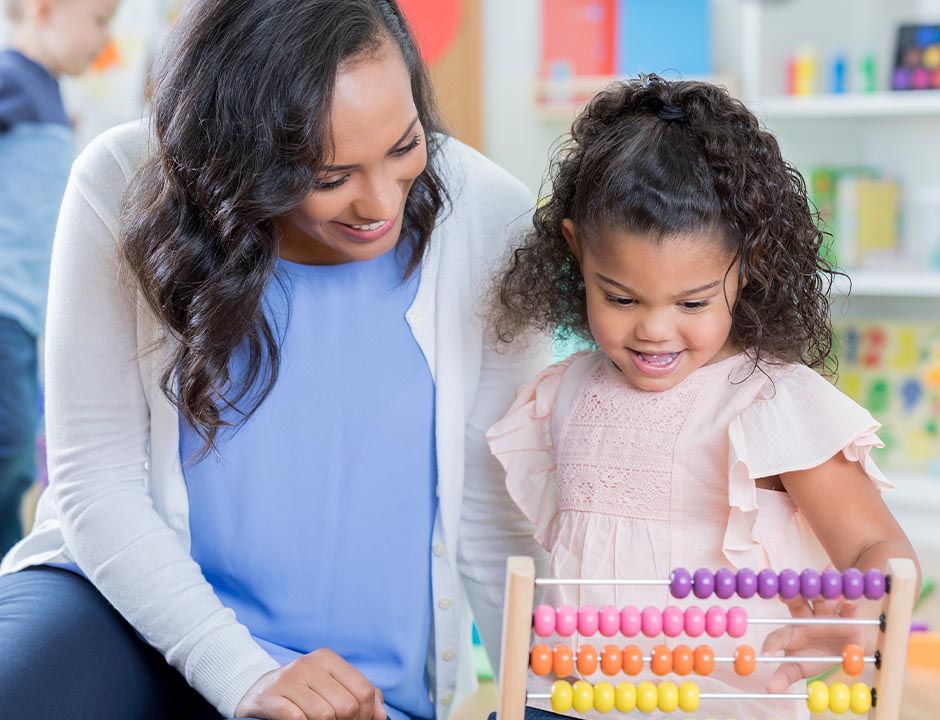 Prepare your pre-K child for kindergarten and beyond.
Your Pre-K child will learn lifelong habits for success in our program. Our caring educators will celebrate their individuality while nurturing their cognitive, social, emotional and physical development. We will ensure that your child is well-prepared for kindergarten and a bright academic future beyond.
Find a school